copywriting
Making a pledge
With world leaders meeting for COP26, the global conference on climate change, our founder Rob took part in a special project. Using the power of words and illustration, 26 Pledges inspired people to change behaviours. It also taught Rob a new technique for taking on his biggest challenges.
My haiku and narrative for 26 Pledges – a powerful collaboration between writers' organisation 26 and The Wildlife Trusts – has been published online.
With COP26 taking place in Glasgow in October 2021, it was my own small contribution towards tackling the climate crisis. Just a drop in the warming and rising ocean perhaps. But a few heartfelt words that I hope encourage at least one other person to think and act a little differently.
You can read my work here: 26 Pledges.
Like all 26 projects, 26 Pledges was a welcome reminder of the power of language and the collective. The research and writing process also taught me the importance of pledges in the face of seemingly insurmountable challenges. Especially to writers.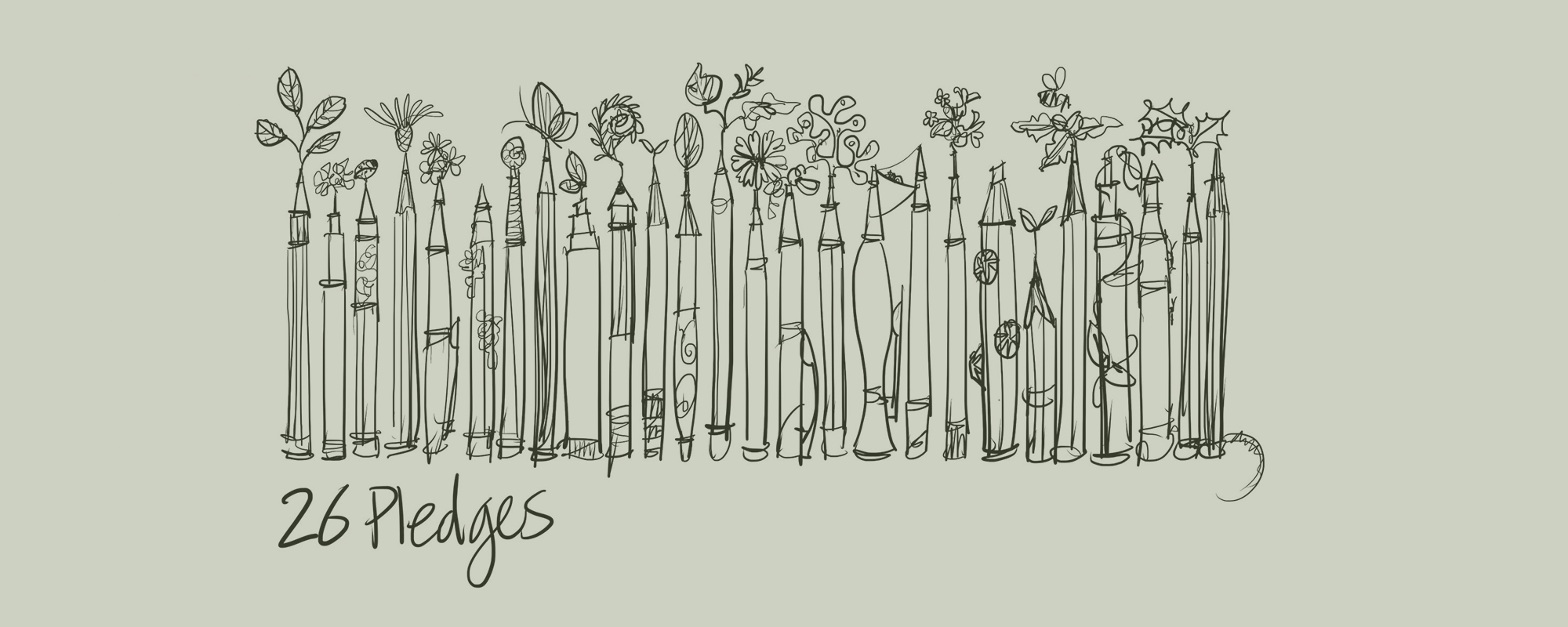 Writers exist for challenges. Every day, we're asked to communicate complex subjects – often subjects we know little or nothing about – in ways that excite, inspire, educate, persuade or in some other way compel people to think, feel or act. The more experience we have, the greater the expectations put on us.
But what do you do when a challenge feels too big for you? Too complex? How can you write when the stakes feel just too high?
Try making a pledge – a simple promise to yourself that takes the pressure off and helps you to write the first line. Something achievable like:
I'll make a start without judging myself
I'll keep writing, even when I feel my work isn't any good, knowing I can sharpen it later
I'll ask the question, even though the answer might be obvious and I could feel silly
I'll go walking for air and inspiration before I doubt myself so much I freeze
I'll use other people's feedback to make my writing better, not take it to heart
Especially… I'll be honest and vocal about how I feel, asking for support if ever I need it
Your pledge can be to start doing something that helps, or to stop doing something that harms. It can be practical or it can be emotional. As long as it moves you and the project towards a better place.
You'll be amazed at what's achievable with a few small pledges. We could even save our precious planet. Thank you to Lydia Thornley for so wonderfully illustrating the project and Rob's piece.