Brand strategy
The true value of your voice
We've kicked off 2022 with three tone of voice projects. It feels like a sign that the world of business is picking up after two shaky years. And perhaps that tone of voice, for too long labelled as 'nice to have', is beginning to be recognised for the great strategic value it can offer every organisation.
Tone of voice. A phrase common to many in brand. But a concept still undervalued, or even misunderstood, by some.
We've developed plenty of tones of voice over the years. Gumtree, the British Council, carwow, Moorlands College, Anglia Ruskin University, Hope and Homes for Children, and many more across all sorts of industries and sectors. 
Recently, as we analysed what makes language effective for our book the A-Z of better brand language, we noticed a pattern in these projects. More specifically, in their timings.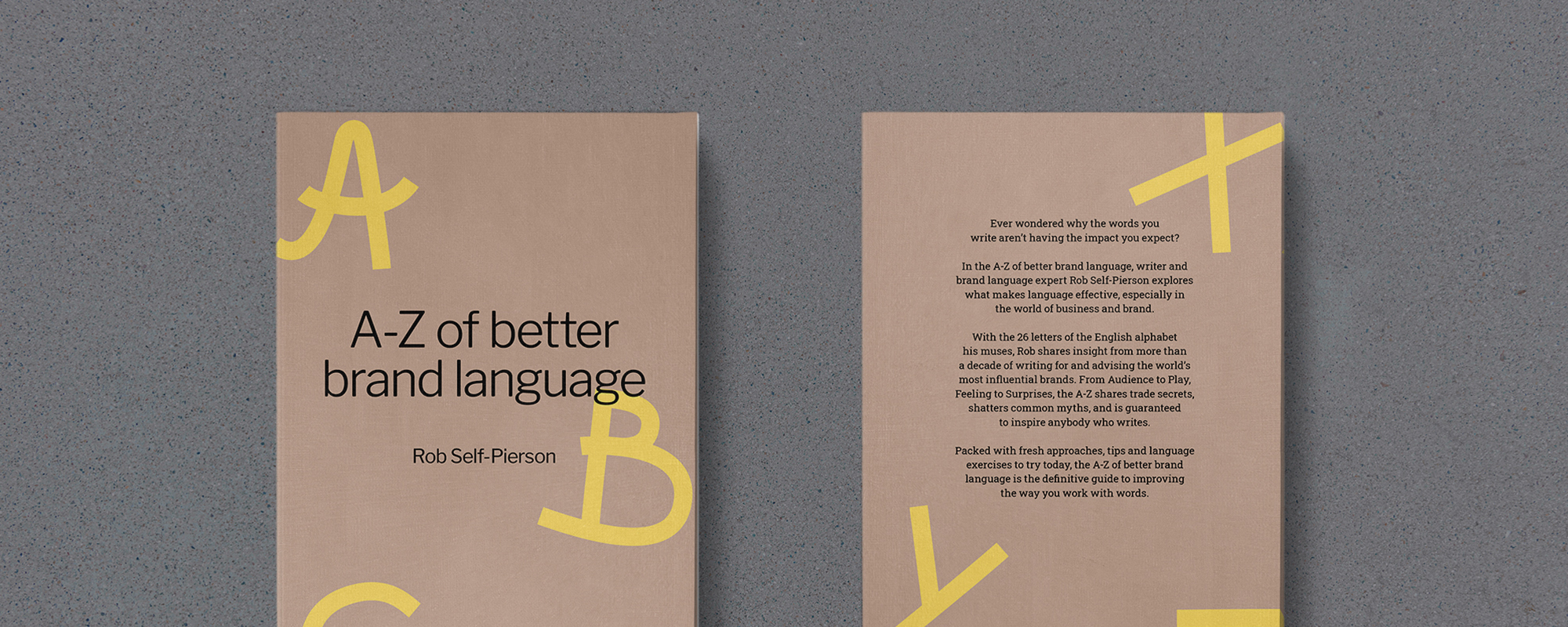 Gumtree, who years earlier had invented the online classifieds category, was losing market share to playful start-ups like Shpock and Vinted. With uni fees rocketing, the British Council's matter-of-fact messaging was failing to attract international students to the UK. As Covid devastated families and forced children into orphanages, Hope and Homes's polite messages were being lost among thousands of charities desperate to fund change.
At a time of make or break, each brand turned to tone of voice. Why? Because they saw the strategic benefit in bringing clarity, character and consistency to the way they use language.
Our clients understood that by investing wisely throughout their brand – across visual and verbal; in their brand tone as part of their brand strategy – they could:  
Position their organisation
A distinctive voice can be a potent point of difference. Often even a clincher when a consumer is choosing which brand to buy, or an investor which business to back. It can be as simple as deciding whether you're a "Hi" or "Hello" brand. 
Your tone of voice suggests an experience to your audience. Which positions you in their minds. The smartest brands know this and define their voice to take control of their positioning.
Express brand character
Every brand has the potential for a distinctive tone of voice. Once defined, that voice will help you to put across your brand character, its personality. Possibly for the first time ever.
A consultancy business whose verbal identity we've just developed said we'd helped them to finally express who they truly are. Today, they're able to communicate their beliefs, values, motivations, even brand purpose in every message. Because they now have a voice true to their brand. 
Not only is their voice true to their brand and its personality. We developed it with their different audiences in mind. So every word they write now makes a valuable connection.
Communicate with clarity
We write for a lot of brands, either copywriting from scratch or copyediting other people's work. We're writers so we love it. But sometimes it can feel like papering over cracks.
Those cracks often appear because there's no tone of voice holding the brand's language together. This can lead to writing that feels uncertain, even unclear. The process of developing a tone of voice creates a deep understanding of an organisation and its brand, and of the audiences they want to connect with. This understanding, when developed into smart tonal guidance, helps a writer find clarity in thought and message.
"People who think well, write well"
Copywriting great David Ogilvy once said that "people who think well, write well". With tone of voice explored and in place, thinking well becomes far, far easier.
Develop trust and loyalty
Can you think of someone who seems different each time you meet? How do you feel about that person? Do you let yourself get close to them? Would you lend them your savings?
It might be a crude analogy, but behavioural science suggests we make up our minds quickly when choosing brands, like we do when making friends. Small signals offer big clues about what we might experience from a relationship with them. Tone of voice produces a consistent language experience, suggesting a brand you can rely on. Which over time leads to trust. And later that holy grail of brand development: loyalty.
Your tone of voice can be as wonderfully wacky as Innocent, or as witty, warm and aware as Monzo. As long as it feels the same today and tomorrow as it did yesterday. 
Boost company culture
A new tone of voice can transform company culture – by capturing the spirit of what makes an organisation special, celebrating it, then encouraging staff to embrace it.
In 2015, we developed Gumtree's tone of voice. On top of battling for market share, the brand team wanted to fight a misconception. No, Gumtree isn't just a tech platform. And it certainly isn't a haven for fraudsters. It's an organisation made of personalities, innovators, hard-workers. Both people young and full of energy, and those mature and experienced. The smartest in content creation, programming, even activism for a safer internet.
Bold. Refreshingly optimistic. Sincerely yours. The majority of the 300 staff we trained in Gumtree's tone of voice said it gave them renewed pride in their employer, and a personal joy in their own approach to brand language.
So, tone of voice. Not just a nice-to-have but a brand asset of great strategic value. Essential for any organisation looking to find its position, express its character, communicate clearly, develop trust and loyalty, and boost its company culture.